Let's start with the best product on our review, BOV845BSS! And you will soon understand what makes this model the best convection oven on this list!
First, BOV845BSS has a wide set of features. It comes with 10 preset cooking functions, including toast, bagel, bake, roast, broil, pizza, cookies, reheat, warm, and slow cook with automatic keep warm feature. And every single of your dishes will be ready in no time thanks to the convection fan and the heat distributed evenly by the 5 independent quartz heating elements!
The device will allow you to easily change the temperature, time, cooking mode, switch convection on and off, and display the temperature in either Fahrenheit or Celsius. All this can be done with a turn of a dial or a push of a button! Then, the inbuilt large-font LCD display will show what settings your BOV845BSS is set on.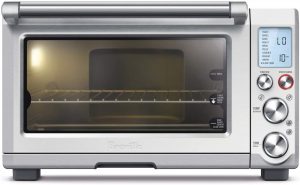 This convection oven offers great capacity, fitting 6 slices of toast or a 13" pizza. The huge interior will not be a problem to look after through the large-window door plus an inside light, which will greatly help you with keeping an eye on your food.
The interior non-stick coated interior will make cleaning the inside of the machine a breeze for you. As you can see, BOV845BSS does everything to make cooking and maintenance more time-efficient!
We also have a detailed review on Breville bov845bss in case if you want to check that out!
Biggest Advantages:
The best convection oven one can buy!
10 built-in cooking modes.
Includes a baking pan, a broiling rack, and a pizza pan.
Convenient onboard dials and buttons.
Large-window door plus interior lights.
Non-stick interior.
1-year limited warranty.
Some Minor Cons:
Only works with 120V current.
The baking pan and the broiling rack do not have non-stick coating.
The pizza pan warps under heat but retains its shape after cooling.
The lower rack is close to hot components.