or those who love baking bread themselves, we are going to present a beautiful bread maker, Zojirushi BB-PAC20! It is a great model with a wide range of baking functions, which make BB-PAC20 a great choice for those looking for an advanced bread maker.
But what are the factors contributing to Zojirushi BB-PAC20's performance? Our Zojirushi BB-PAC20 review will try to give a comprehensive answer to that question!
On today's review, we will examine a number of this model's features, compare it with another popular bread maker, Breville's BBM800XL, and answer a couple of readers' questions. Let's get started!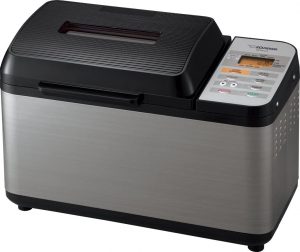 Features of the Zojirushi BB-PAC20
Functionality
BB-PAC20 bakes a large traditional rectangular shaped 2-lbs. loaf. While some may think that the lack of customizability is a downside, with this maker, you get a loaf fitting into the most toasters out of the box. So if you don't wish or need to play with bread loaf sizes, BB-PAC20 will be a nice pick.
This bread maker comes with 10 pre-programmed settings, including basic, basic wheat, basic dough, quick, quick wheat, quick dough, jam, cake, sour dough starter, and homemade.
In addition, you can bake your bread gluten-free! The homemade mode will allow you to create 3 custom baking cycles. Just keep in mind that you can't set a temperature for each cycle, only time.
The quick baking cycle will prepare bread in about 2 hours, and the baking time can be set to up to 13 hours. Another nice feature is that you can choose crust shades – light, medium, and dark.
During baking, the dual kneading blades will thoroughly knead the dough. Besides, the positioning of the heating elements allows BB-PAC20 deliver evenly baked loafs.
If you like consistent-bake bread, this bread maker will be a perfect choice!
Convenience
BB-PAC20 is as convenient as it is functional. Its easy-to-use control panel will allow you to quickly set your baking settings. With a push of a button, you can change the baking time, the crust shade, change the baking modes, and start creating your custom baking cycle!
A bad thing about the control panel is that the elements on the inbuilt display are piled up, which makes it more difficult to read. With the included measuring cup and spoon, you can easily keep track of the ingredients you put into the baker.
If you wish to view the process of baking, you can see the interior through a large window on the lid. Unfortunately, there is no inside light in BB-PAC20. The inner cooking pan has convenient handles for easy removal and setup.
All these make BB-PAC20 a highly easy-to-use model, so if that's precisely what you are looking for, maybe this bread maker is the best choice for you!
Easiness of Maintenance
The removable inner cooking pan is exceptionally easy to clean as it features non-stick coating.
To additionally facilitate the cleaning process, you can remove the kneading blades. That way, you can thoroughly wash the kneading blades separately as well.
That way, you can thoroughly wash the kneading blades separately as well. So if you are looking for an easy to clean bread maker, BB-PAC20 is a great option.
Bake Quality
Baking bread is the reason one would buy a bread maker for, right? With baking, BB-PAC20 has no issues! The even placement of heating elements allows you to get bread loafs with extremely consistent bake quality.
Uneven bake is quite a common issue with modern bread makers, but Zojirushi has done a great job trying to eliminate it. With every single bake setting, BB-PAC20 will deliver bread loafs of the same quality!
If you are particularly worried about the consistency of baking, you should definitely examine BB-PAC20 and maybe even consider buying it!
Performance
What else can we say? Although this bread maker has minor issues with the easiness of use of the control panel, it delivers consistent and high-quality results.
BB-PAC20 bakes standard-size bread out of the box without the need of customization. If you want convenience, consistency, and functionality, BB-PAC20 is a worthy model to be reviewed thoroughly.
Biggest Advantages:
Bakes a traditional rectangular 2-pound loaf.
Has 10 preset baking modes plus gluten-free option.
Dual kneading blades and even placement of heating elements will deliver consistent baking quality.
Convenient control panel with an LCD display.
Removable cooking pan.
Comes with a measuring cup & spoon and a recipe book.
1-year limited warranty.
Some Minor Cons:
Not shipped internationally.
Only works with 120V.
No interior lights.
The LCD display is not as easy to read.
Zojirushi BB-PAC20 VS Breville BBM800XL
The most known contender of BB-PAC20 is Breville BBM800XL. Both are pretty unique and will surely find their buyers. Let's examine the difference between these two models. Also, We have a Details review of Breville BBM800X If you want you can check it out here!
BBM800XL has a fruit & nut dispenser, which is a great feature if you want your device to automatically add more ingredients to your bread.
Breville's baker allows you to choose between 4 bread sizes (1-, 1-1/2-, 2-, and 2-1/2-pound). In addition, BBM800XL allows you to create 9 customizable baking cycles.
You can even change the temperature of each cycle! The kneading blades of BBM800XL collapse before the bake phase to minimize the holes at the base of the loaf.
Another nice feature is that its user interface is much more clear and convenient compared to BB-PAC20. At last, it has an interior light!
As for BBM800XL's downsides, it is not as consistent with baking. Inside, the bread is heated up from the bottom and the sides more. That may be done to give the bread a sufficient browning, but that's matter of personal taste. As you can see, BBM800XL has much more features and is more automated.
The price of its features is the lack of bake consistency. If you want a simpler device with less customizability and consistent bake quality, go for BB-PAC20. Otherwise, if you don't need consistency but want customizability, BBM800XL will be a perfect choice for you!
Frequently Asked Questions
Do I need to remove the kneading blades to wash the cooking pan?
Not necessarily, but with removed blades, you can wash both the blades and the pan much more thoroughly.
Can't you add nuts and fruits during baking with BB-PAC20?
You can, but it isn't automated like in BBM800XL. BB-PAC20 will make a beep sound when it's time to add ingredients.
Is there a way to make smaller loafs with this bread maker?
Yes, the included recipe book contains instructions on making 1.5-pound loafs.
How do you switch between the pre-programmed baking settings?
It is done via the button marked "Courses." If you wish to create your own custom cycle, do it with the push of the "Home Made" button.
Can I remove the kneading blades during baking to avoid holes in the loaf?
Although you technically can, we do not recommend you to do that. It will actually create more mess. If you are considering buying a bread maker and really do not want holes, maybe you should go for Breville BBM800XL.
We hope you liked Zojirushi BB-PAC20! We sure did! It is quite a nice model for those who are not too concerned with functions and customizability and just want their bread to be baked.
If that sounds like something you would like to put in your kitchen, don't hesitate and go buy BB-PAC20!
To see the extraordinary performance of Zojirushi BB-PAC20 Bread Maker in action, we offer you to watch this video!